Don't be fooled by the stickers, as behind the full racing livery this very special Toyota 86 is actually just a bone-stock GTS, but that does give us a chance to put it through our normal tests to see if Toyota and Subaru's collaborative sports car still feels as sharp now as it did nearly eight years ago when it launched.
---
As a motoring journalist who gets to drive press cars loaned out by manufacturers all the time, you often learn to adapt to sudden changes with companies' press fleets. Plenty of times, schedules have had to be changed due to a car being damaged, having exceeded its kilometre allowance before being sold on, or simply because it hasn't been returned on time.
The latter of these instances is what led to be coming to drive the rather surprising car you see here. You see, I was meant to be picking up a Hilux Workmate from Toyota – and I will still have a review out on it in the coming weeks – but another journo who had it before me had mistaken the date they were meant to return it by, meaning it was looking like I was going to be without a set of wheels to get home in.
Thankfully, however, the folks at Toyota promised they'd find me at least something to take for the weekend, and while I was just expecting to be lined up with some sort of SUV, I was caught by utter surprise as they returned from checking the calendar and raiding the key cabinet to find anything no one else needed at the time to ask me one very easily answered question – "How would you like to drive a race-car over the weekend?"
As you can tell by the pictures, an instant and enthusiastic yes was my response as they handed me the keys to this Toyota 86 GTS that is normally used as a promotional car for the Toyota 86 Racing Series, with it finished in the same livery as one of cars featured in the series, which in a smart move, was car number 86. I'm sure it won't be hard for you to imagine my excitement as I pulled out of the lot and set about distracting everyone on the road for a few days.
While it might be covered in a full racing livery with numbers and sponsorship decals identical to that of the real deal racer, this promotional car is in every every other way, shape, and form an ordinary range-topping automatic 86.
That means that, unlike the mechanically stock cars in the race series, which is currently running in Australia until 2020, there's no roll cage or racing seats to be seen here, so simply consider the flashy finish of my tester to be a visual cherry on top of an otherwise ordinary car review.
The 86 is pretty familiar to most at this point, but in case you weren't aware of the backstory, it's been around since 2012 and was built in conjunction with Subaru – who sell it as the largely identical BRZ – to pay homage to the AE86 Sprinter Trueno which was perhaps most made famous by the anime Initial D in which the protagonist Takumi Fujiwara became a champion drifter in it on the fictitious Mount Akina. I'm a big fan of the show, if you can't tell.
With a chassis developed by the now-famed Tetsuya Tada, the man responsible for the development of the new Supra, and a Subaru boxer engine under the bonnet which are known for helping lower a car's centre of gravity, it's been highly-regarded since its launch as a true driver's car, with few changes having needed to be made to it over its nearly eight-year lifespan so far.
Aside from a new look and a little bit of extra power having been squeezed out of its engine for manual variants back in 2017, and the introduction of the optional Dynamic Performance Pack last year which was fitted to the car you see here and adds some track-ready Brembo brakes, Sachs dampers, and different Rays wheels into the mix, it's still basically the same old car, so how does it manage to stack up after nearly eight years on the market?
On the inside, its age is certainly showing in some areas such as the old-hat dot matrix climate control read-out and the dated infotainment system with an absolutely tiny screen by current standards, but it's not actually a bad place to spend time otherwise, especially in this top-trim GTS.
There are lashings of Alcantara absolutely everywhere including on the seats, door cards, and dashboard, along with very nice leather surfaces on the armrests and steering wheel, too. The seats are a particular highlight – comfortable, supportive, nicely trimmed, and heated for good measure, although the same can't be said for the pointless second row which has quite literally no legroom at all.
A lack of a centre armrest up front is one other sign of its age, but didn't really bother me too much given it's not the sort of car that you're typically driving in a chilled-out manner. I must give it kudos for the size of its boot, however, which is easily wide enough to fit something like a guitar in widthways. The rear seats do fold down to allow for longer items to fit in lengthways as well, so in this regard, it is more practical than you'd expect.
Under the bonnet lies a 2.0-litre naturally aspirated flat-four. Codenamed the FA20D, it differs from the engines in Subaru's FB engine family upon which its design is based by having a perfectly square 86mm (get it?) bore and stroke, rather than undersquare, while also sporting Toyota's D-4D combined direct and port fuel injection system as another point of difference. In automatic 86s like this one, it makes 147kW and 205Nm, while manual variants make a slightly more potent 152kW and 212Nm.
Both transmissions that can be had backing it offer up six ratios, although those fitted to the manual are shorter than those in the flappy-paddle torque converter auto. And with this car having been inspired by drifting culture, it's rear-wheel drive only, just as it should be.
Much like a Mazda MX-5, the 86 is best viewed as a momentum car – that is to say it's fast through the bends, but you'll have to work hard to build up enough speed to carry it through them. Quite frankly, after it being in production for this long, forced induction really should have been fitted to this engine as just about everyone has been begging for, but plenty of aftermarket solutions exist for those so inclined as to supercharge or turbocharge it.
One thing that clearly needs no real improvements, however, is the suspension, particularly with the optional Sachs dampers, as it still has one of the finest sports car chassis around. Through the bends, it displays incredible poise, remaining flat and balanced and totally controllable even on the limits of adhesion.
And given the deliberately skinny and slippery Prius tyres fitted to it – Michelin Primacy HPs, for reference, which seems rather contradictory to the Dunlop stickers of this faux-racer's livery – that limit is one that's easily reached. In Track mode especially, it is remarkably easy not only to induce oversteer but to manage it, even if you're a bit ham-fisted behind the wheel.
Clearly, it's as much of a skid pig as Takumi's waggly-tailed AE86, but for fans of precision driving it's a perfect fit, too. With the steering feeling so responsive and perfectly weighted, it'll carve exactly the line you want it to, and the sideways theatrics are easily avoided if you get your pedalwork right.
And speaking of the pedals and what they control, I should mention that those Brembos are absolutely excellent. The pedal feel is quite possibly the firmest I've ever felt in a factory car, and the heat resistance they display is utterly impressive. Racetrack-ready, indeed.
If anything lets it down though, it's the automatic transmission. While the manual does have its pitfalls, too – from past experience, the clutch is shockingly hard to judge and oddly weighted, and the shift action can feel a tad crunchy – the auto dulls the experience a bit too much for my liking.
Not only is it less powerful to begin with, but you can clearly feel the torque converter sucking away some of the power and even more of the soul from this thing. For what it's worth, its upshifts are very quick when using the paddles and the downshifts are appreciably paced as well, and it's a pretty smooth operator overall, but the experience still feels dulled compared to what it can be with the stick.
So it's getting on in years and struggling to hide it in some areas, but the way the 86 drives is still as good as any other sports car out there today. It's remarkably dialled-in and a real driver's car, and having now driven Tada-san's latest creation, the link between this and the new Supra is clearly felt.
Now at a starting price of $38,940 for this automatic GTS, with that hiked up to $41,640 with the desirable options fitted to this one, I'd say there's clearly better value to be had elsewhere in the range – not least by saving a few thousand opting for the superior manual version – but people are still buying these things despite the price and after this long a time which is credit to Toyota for how timelessly well it drives.
It's just a shame you can't go out and buy one that looks like this one does, because it only made driving the 86 an even more fun experience than it already was given the smiles it brought to people's faces.
---
2019 Toyota 86 GTS
List Price: $38,940 | As Tested: $41,640
Performance -

7.5/10

Ride & Handling -

9/10

Tech & Features -

7.5/10

Practicality -

7.5/10

Value for Money -

7.5/10
Pros: Superb chassis dynamics, easy to control even on the limit, optional Brembo brakes have incredible stopping power, surprisingly plush interior materials
Cons: Auto zaps too much pep from the already underpowered engine, interior tech showing its age, pricey when fully-optioned like this
In a nutshell: It might feel its age in some areas, but the way it drives isn't one of them as the 86 still feels as sharp as the day it first launched. 
---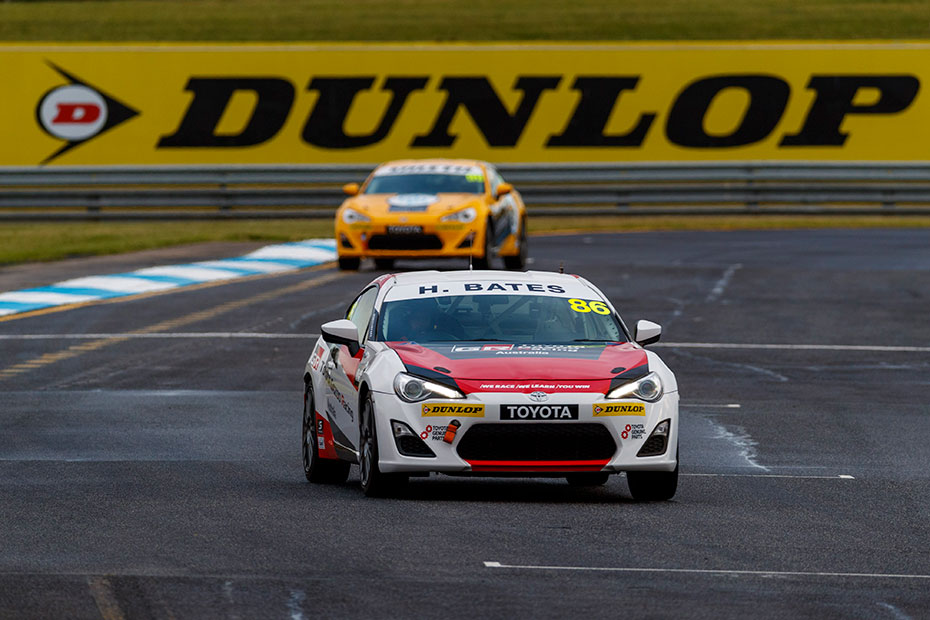 ---
Full Disclosure: The vehicle tested here was provided by Toyota Australia for four days with a full tank of fuel. All additional fuel expenses were covered by the author. Please note that neither Drive Section nor the author are associated with or financially benefitting from any of the companies whose branding is displayed on the car pictured here.
Latest posts by Patrick Jackson
(see all)